Here is the first in what I am going to forewarn you will be ALOT of posts about Kerli. I've only just discovered her, and I'm just fascinated by her kookiness. Not to mention her amazing costumes!
Kerli is an Estonian singer. That's pretty much all I know about her, but I'm going to wikipedia her in a minute so in future entries I can sound a bit more knowledgable! ((Or you can just look her up yourself!)). Oh also her song Tea Party was on Tim Burton's Alice In Wonderland soundtrack.
Let's start with an easy one, yeh?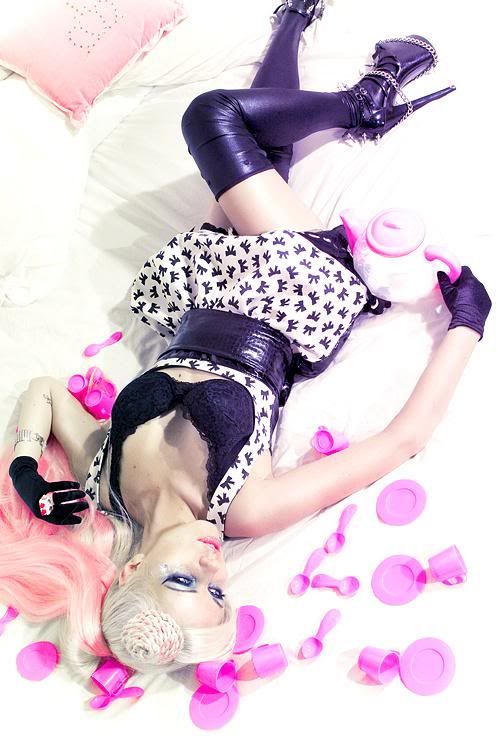 The shoes, I'm not sure EXACTLY what they are but they look very similar to the
Christian Laboutin for Rodarte
ones. And awesomely enough, the most amazing tutorial I have ever seen, has been written up on how to
DIY your own pair
over at Chic-Steals! Seriously, I KNOW! Make your own and add chains dripping from them. Hardcore.
The socks are easy enough! If you can't find a pair of wet-look thigh-high socks, which probably won't go high enough for you if you have long legs like me, buy a pair of cheap $10 wet-look leggings from your local accessory store ((like Diva or Equip)). Stitch the ankle shut, then put them on so you can see how high you want them to go. Mark it and then take them off. Add a seam allowance and cut them ((make sure they're the same length!)). Hem the tops. Get some swimsuit elastic, it's see-through and kinda sticky. Stitch it to the inside of the hem, so they stay not-to-tight on your legs. The swimsuit elastic will help them stay up a bit better too.
Kerli is wearing a pettiskirt under this dress, I know because there's other photos of her wearing it as a mini! You can buy a pettiskirt, or you
can DIY one
((thanks Martha!)). The tute I linked to is for instructions on a child's one, but I doubt it'd be hard to translate them into an adult pettiskirt!
The dress is an underbust style. I'd just get a regular bodice pattern, and cut it down so it goes around your boobs and underneath them.Add a giant rectangle of fabric to gather to it as a skirt. This dress also looks like it's lined in black, you can see a bit of black around the armholes and under her boobs. It also looks like it has a black pvs or satin stripe down either side of the dress from the armpit to the hem. It also looks like this contrast fabric goes around the waist as well, it's peeking a bit underneath the belt at the top. Team with a big fat black waist cinching belt.
For the little hairpiece, get some extensions in the colour of your hair ((not difficult to find these days, even if you have virgin hair)) and plait them thinly. Make a small shallow cone out of cardboard ((or whatever is in your recycling bin)) and either hotglue or stitch ((I'd go with hand-sew for it to be more secure)) the extensions around the cone, making sure you cover every bit of the cardboard. Secure to your head with bobbypins.
And obviously, get your prettiest black bra to wear underneath and put on some cute black gloves! Throw a toy tea set around and lie on it!