More
Supanova
costuming goodness!
I have loved Harley Quinn forever. I mean that almost quite literally. I saw her on tv once before school doing her flips and cute tricks and just fell in love. I have loved her longer than my Batman obsession even begun! Now that I have mastered the art of wearing contact lenses [okay maybe I haven't, my sister has to put them in but my eyes freak out no more!] and have blonde hair I think the time has finally come for me to dress up as the cutest, ditziest villain ever.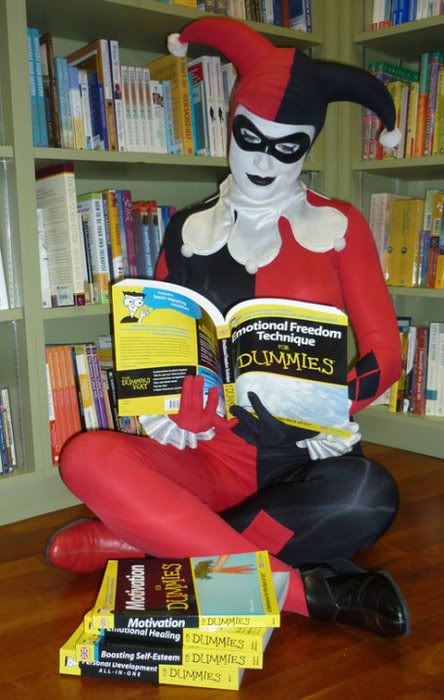 cuuuute Harley Quinn costume!
About Harley Quinn
She's not actually as dumb as she seems. She was a psychologist at Arkham Assylum, formerly known as Harleen Quinzel.
At Arkham she met the Joker, fell in love with him and decided to help him escape, becoming Harley Quinn in the process
[ie. Harlequin]. You know what makes Harley great? She's the Joker's girlfriend! She affectionately calls him Mr J. and Puddin'. Any search for Harley Quinn on youtube will provide you with almost endless amusement at how stinkin' cute she is!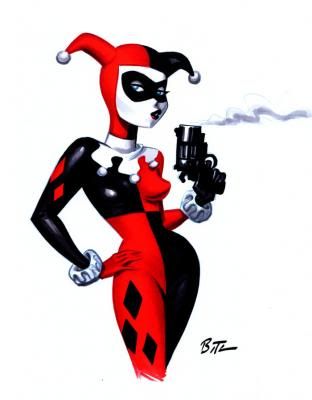 Harley's best friend forever is Poison Ivy! Like the Joker, Ivy kind of bosses Harley around, it's tough love from both of them but it's what Harley wants!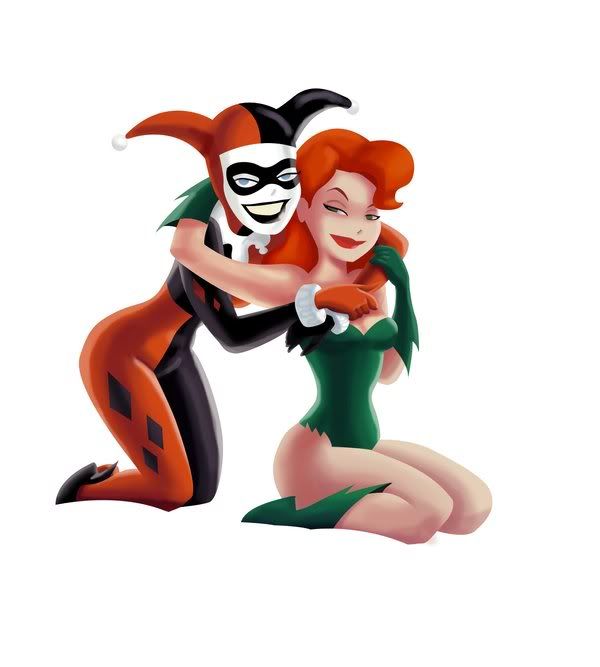 Costume
So After realising making a bodysuit would be DIFFICULT, and before I even thought of googling 'how to make a bodysuit' [sometimes I wonder at myself] I just straight out bought the
Harley Quinn costume pattern!
It's a one-size affair but it includes the bodysuit, the jester hat [which I knew I was going to have a hard time pattern-making it up myself!], the cuffs, the collar the eye mask and the booties. So to save myself the trauma of trying to nut out everything myself I just bought the pattern. I'm very excited about it actually. The instructions seem very well written, although the diamonds on the suit are glued on and not stitched, but I have tried my hand at appliqueing lycra and it seriously made me want to cry. I will try again, but if it annoys me too much I'll just glue the damn things!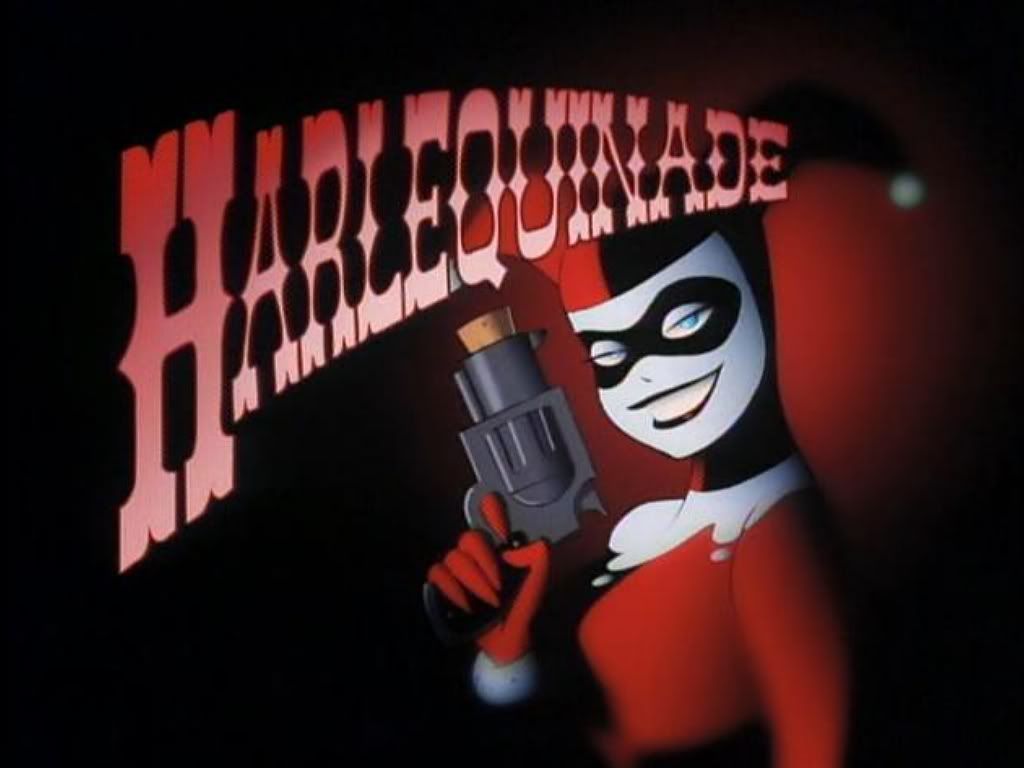 Harley has got to be the most 'cosplayed' [Ugh I REALLY hate that word. Makes me think of anime people everywhere] DC character I've seen ever. Who cares though? She's cute! It also gives me opportunities to see good and bad costumes of her!
I'm planning on buying some Acuvue blue contacts for my eyes and some ridiculously awesome white face paint because I've seen som badly done Harley's with patchy white paint and it looks DREADFUL. I'm pretty sure I'm just going to paint the mask on my face instead of having a seperate one because it'll stay on better and easier to touch up!
The gun is going to be the hardest bit, but I have one of my friends who is obsessed with Nerf guns on the prowl for something I can modify. Worse comes to worse I'll get a toy gun and papier mache the carp right out of it!
I used to do gymnastics in highschool, but I'm going to have to brush up on all my old tricks, BIG TIME. I want to be a
GOOD
Harley, complete with backflips!
Yep. She's kissin Bats!
Since typing this up I've cut out all the red and white bits of the costume, just black to do. Did I mention I HATE LYCRA?